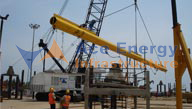 ACE's expertise has been honed by over two decades of experience in the execution of complex contracts throughout the length and breadth of the Indian sub-continent.
ACE's strengths has been strong emphasis on building long term relationships with Clients and with its human resources, building infrastructure facilities and strong asset base, and a highly commitment oriented management. Working on these strengths have all enabled ACE to emerge as a leading Engineering, Procurement & Construction (EPC) company.
We are and engineering and construction group with a focus on the hydrocarbon and energy industry. We specialize in installation of cross country pipelines. We derive our strengthfrom our ability to perform and deliver in adverse and challenging situations.